The Beginning:
Who remembers Jody Scheckter, who, in 1979, at Kyalami, won the Formula I World Championship for South Africa? I remember this year very well, committed it to memory, because that year I killed my first Jackal, near Warrenton. I was a Nature Conservation official then. A year later I was transferred to the Vrolijkheid Predator Control Research Station, near Robertson, to do hunt-club administration and toxic collar research together with Chris Stuart and Nelson Esterhuizen. At that time Nature Conservation was still helping farmers in their struggle against predators. I also studied Field Ecology at the University of Rhodesia, now Zimbabwe.
At Vrolijkheid I met a truly professional trapper and houndsman. His name: Roy Mc Bride from Alpine, Texas. It was he who planted the idea that I become an independent trapper. But that was easier said than done. I first had to learn what it really meant in practice (and not just on a laptop) to be an effective predator control man; the sweat involved, the frustrations to be endured, the correct methods, the costs, the materials, human relations and much more. This took me six years from 1981 till 1987 during which time I worked as a freelance trapper and Divisional Council Trapper (Worcester/Laingsburg) together with the late well known trapper Jeff Deyer . There I also collected dog-tax that partly paid for my salary. Those were learning years.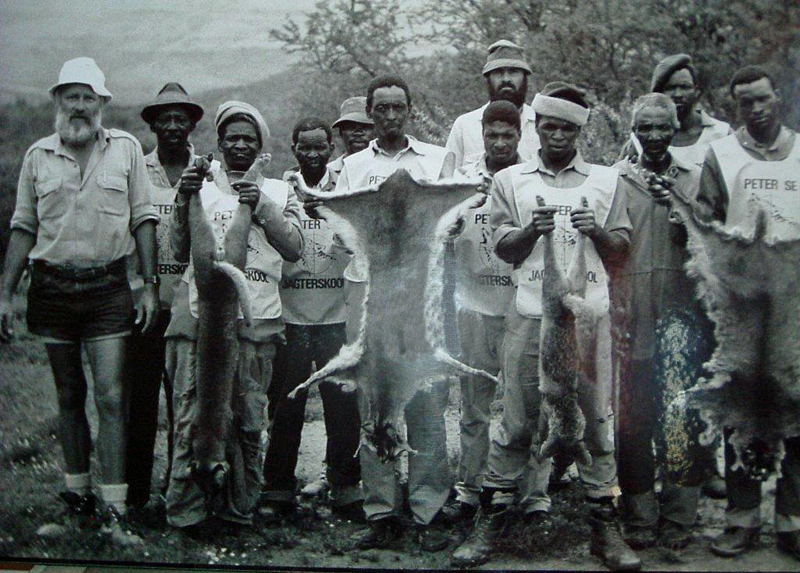 One of the many training courses done in the mid-eighties of the last century in the Eastern Cape, South Africa. The now old man posing on the left.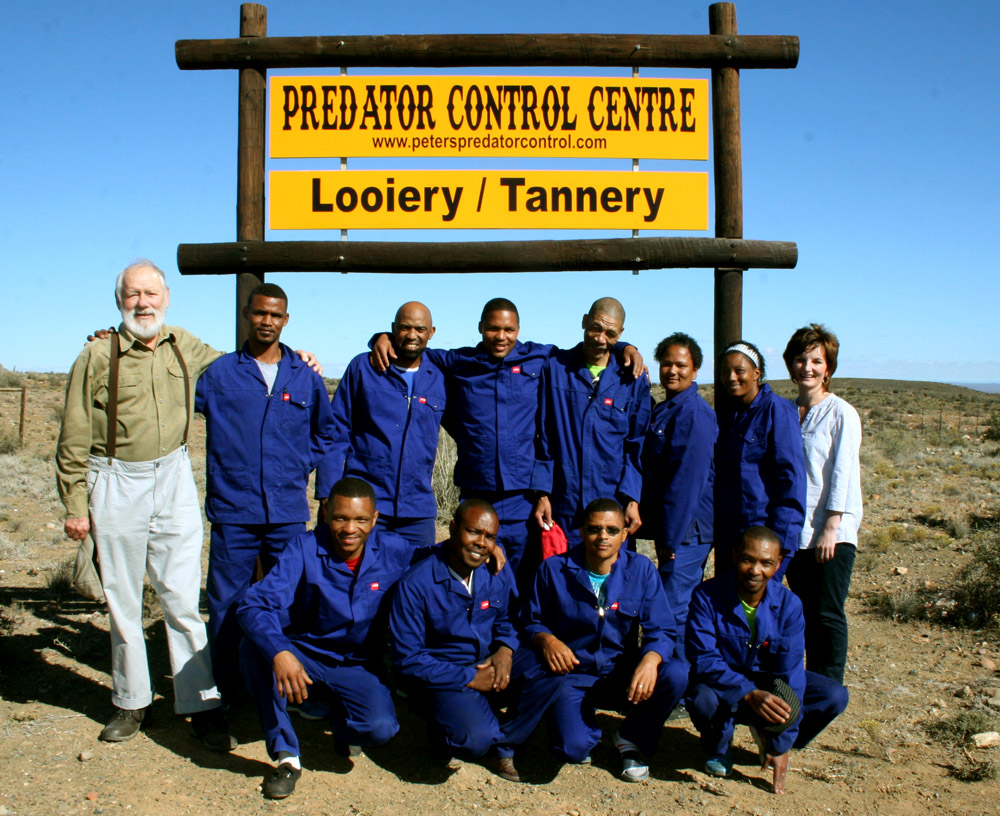 Oktober 2016, ons nuwe uithangbord met my getroue personeel. En so lyk dit 28 jaar later in Prins Albert, nog steeds voltyds gewikkeld in die stryd teen ongediertes. Die looiery is tans buite werking ongelukkig.
The Great Jump:
After all those years I felt confident enough to leave the safety of the Civil Service and do what Mc Bride had suggested years before; the scary move to go on my own, family and all, and make a living from predator control work. I moved to Prince Albert, at the southern edge of the Karoo to be closer to the main trouble areas. My main activity from there was to give instruction courses to sheep farmers and their workers. Also to government officials in Natal, Northern Cape, Botswana and Namibia. Up to date about 450 courses in total. Along the way I received invaluable help, still lasting to this day, from another predator control great: Dr. Major Boddicker from La Porte, Colorado. Together we trained, at Brandfort, Free State, about a hundred young farmers in the art of predator calling. That was in 1994 and has laid the foundation of today's remarkable calling successes. I have had the privilege to visit Australia, the USA and Canada to study predator problems there.
Predator Control Equipment:
It was inevitable that at some or other time I would start to manufacture my own control equipment, chiefly leghold-traps, body-grips (nekslaner), lures and baits. As a trapper I know exactly what is needed in the veld, and what works best under a certain set of circumstances; hard and/or soft options.
Therefore trust the oldest and longest, uninterrupted serving predator control man in the country!